Lauren Baker is an established artist who entirely self funds her career and growth through selling art, either as print editions, originals or commissions. Having embarked on a promising career in marketing she had an epiphanic moment where she quit her job, travelled the world and found her calling as an artist as part of a Street Art project in Florianopolis. Her story is a remarkable journey of self-belief, tenacity and an unwillingness to compromise in her determination to make it as an artist. This story is important because it provides a backdrop and context for the work itself, which we at creativehub have found is really important in terms of selling artwork.
Considering your art career success, do buyers still feel the need to talk to you about your artworks?
It helps if I can because people buy into the whole package, they buy into me and my story and why I am making the art. I tend to make friends with my buyers, I am interested in them and I talk to them about my story and my art, but I am interested in their story too and what kind of art they have in their home. I think it's a beautiful thing when people invest in you and your work.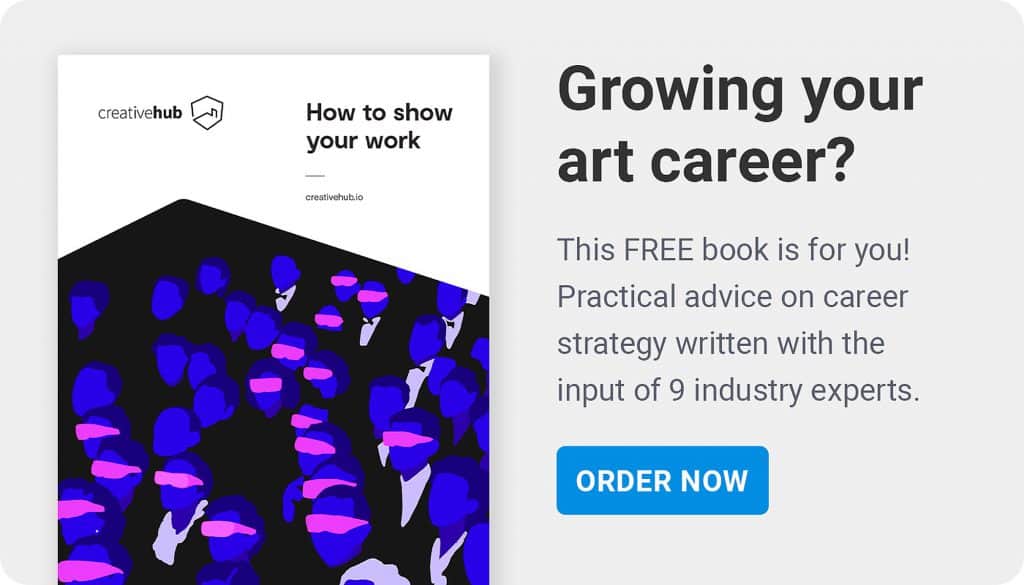 "People buy into the whole package, they buy into me and my story and why I am making the art"
How do you sell your work?
I sell in a variety of ways. I sell through galleries, online by promoting myself through Instagram, and also through art fairs and via people coming into the gallery in Floral Street. The galleries that sell for me want my print editions & neons because they are more pop art in their style and they can also be sold online because they can sell from a picture. The textured pieces I do need to be seen and they are hard to digitise so I don't sell them online. I discovered the option of offering print editions a few years back and this has been a revelation because before I would put so much effort into creating one piece, and then it's gone. The print editions enable a bit of stability because you can keep selling them.
How do your online art sales work?
I have my own online store using Shopify. I put a link in my Instagram stories and this leads people back to my store where I sell things like print editions. It took me 4 years to build a good Instagram following, which I did by posting things that are related to art. So I post things like new artworks, the process of making the art, or images from when I am hanging out with another artist. Every now and again I post some interesting places where I have travelled to where I find inspiration.
"I discovered the option of offering print editions a few years back and this has been a revelation"
How do you go about pricing your work?
I think about the time taken, the material costs, plus something I call the pain costs, which means how hard was it emotionally and technically? For example, my electronic beating heart, I had to make that twice before I got it right. Pieces like that are quite niche and they were a huge risk. I mean, is anyone ever going to want to buy an infinity coffin or a crystal beating heart? These things may never sell! Also, there is the wow factor, if I really love it, and I want to keep it, then I guess it makes it harder to part with, so I would price it higher. Lastly, it's also about demand. If things are selling out then the prices tend to go up towards the end of an edition.
What is your strategy for promoting your art career?
I push out new work about three times a year, and I make a real effort to get press and PR at these times. I concentrate my efforts around my shows and try to do lots of interviews. I also do art fairs and something each year for the Clerkenwell Design Week. In the art market, the busy times are May & October/November so I always time my shows around this. I have 1 or 2 solo shows a year, then I do the art fairs in May & October. In total, I release about 20 new works a year, which is a lot, and they will be in collections around certain themes. I have a 3 month lead time making the work intensely, then I will concentrate on PR for 2 months. In terms of PR, things like teasing out the new work on social media, sending out save the date communications for the shows, getting the guest list together and getting the catalogue ready. We also collate a list of people who have bought before and people who have enquired and not bought. Going to other artists' private views and exhibitions. Supporting other artists is really important, and they will then support me back. When the show is on I do loads of publicity, like radio and press interviews.
"Supporting other artists is really important and they will then support me back"
What advice would you give to artists starting out?
The first thing I did was I moved out of my cool pad and I worked hard, 18 hours a day. I hadn't made art for a long time and so I made sacrifices, I felt like I needed to put in the time to catch up. It took 3 years to start making a living. When I want to learn something to help me make a piece, I look online, so I have never let a lack of knowledge or money stop me from learning something and doing it. I literally had nothing when I started making art, but I had friends who knew how to do things and I wasn't afraid of asking people for help. Another key thing for me was networking. I only spend 10% of my time on making art, lots of my time is networking or marketing. So the message is you have to compromise, put the time in, and dedicate yourself to it if it's what you really want, and remember, it doesn't have to be perfect, you have to make it and share it. People don't have to like it, you just have to be at one with it.