Diane Hill is a 'Chinoiserie' artist, whose craft occupies a niche area of painting and interior design artwork. In high demand for her beautiful, painstakingly hand-drawn, designs and artworks, she's carved an envious reputation in her field, her next focus is bringing her analogue craft to a broader audience, digitally and in fine art prints.
Chinoiserie was an artform of the 18th century, a sort of export art from Chinese tradition. Many people think it's Chinese, but it's actually a European concept of a mythical, fantastical, far eastern idea. I was fascinated by the craftsmanship, the art form's use of unique patterns, and the beautiful panoramics, the designs are often scenes of 'paradise,' of trees, birds, nature. The detail and the craft of the style is incredible, painted by hand onto silk, using the finest brushes possible, these wallpapers were often sent to palaces, aristocratic homes, the highest of the high class. You still see them now in stately homes and national trust houses, a sign of extreme taste and exotic opulence. Having this finery from the far east was considered the height of sophistication in the 18th century. I worked in this field for many years, creating artworks, as well as travelling the world touching up and preserving wallpapers for private clients.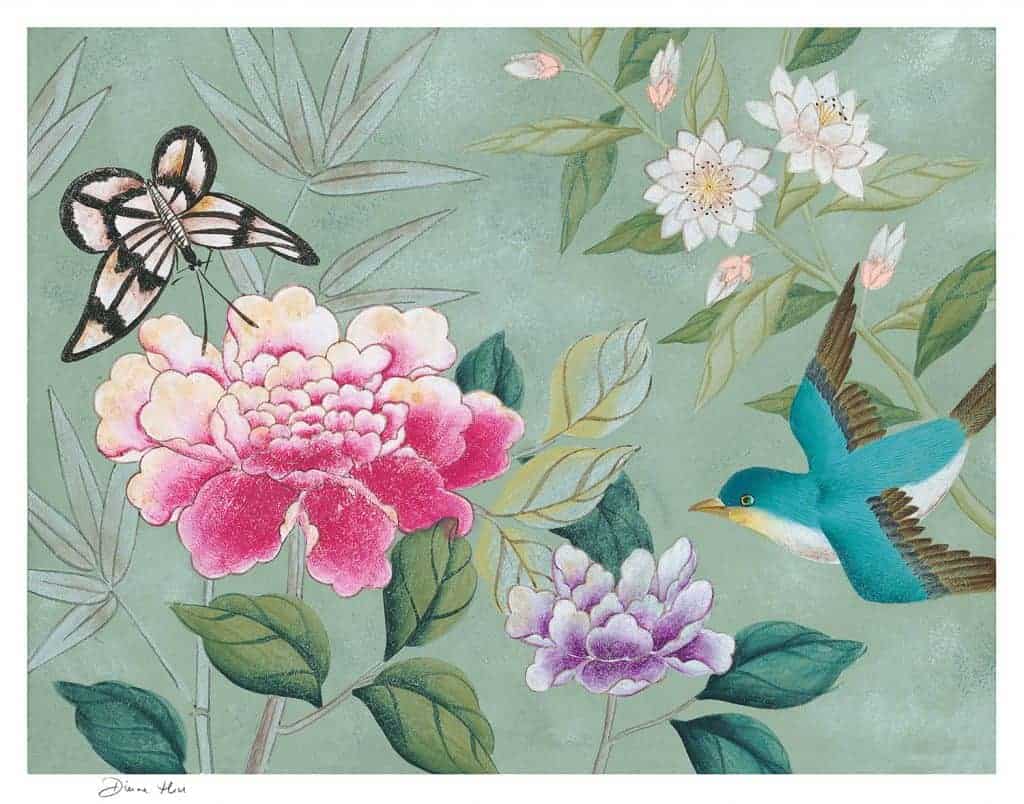 It sounds like a unique experience. So this led you to creating your own artworks, and to branch out as an artist under your own name?
I had my second child and began to realise that I couldn't continue to travel so much, work long hours at the studio, and work in the same way I was, as well as being a busy mother, even just considering the cost of childcare, it just wouldn't work. So I knew I had to rethink the way I worked. This led me to wanting to focus on my own projects and artworks and wondering if I could do something of my own, which I'm happy to say has been a great change for me.
Initially I went with what I knew and began offering handmade, bespoke wallpapers under my own name. I had a unique set of skills, and a lot of experience. The first project I completed after giving birth to my second child was painting her nursery! I painted her whole nursery in really bold, colourful, designs, which took me almost a year to complete! I was really proud of how it came out. I asked a friend to photograph them professionally, then built a simple website in a couple of weeks, launched it, and honestly, it took off instantly! Within days I'd been contacted by Vogue asking to feature me in the magazine, I received so much interest from people, asking me to create similar works for their homes. The colours and the boldness really caught peoples eye and it was amazing to have so much interest straight away.
I love the craft but one thing I've started to become aware of, is that after 4yrs of working this way, creating pieces by hand, for individual clients, there's very little scope to scale my business this way, I can't hire any new staff, as my clients understandably hire me for my specific skills. Due to the time it takes on any bespoke commission, I'm only able to take on a handful of jobs per year, it's very demanding of my time. My aims now are to try to scale the fine art print side of my business, alongside the bespoke work I love so much.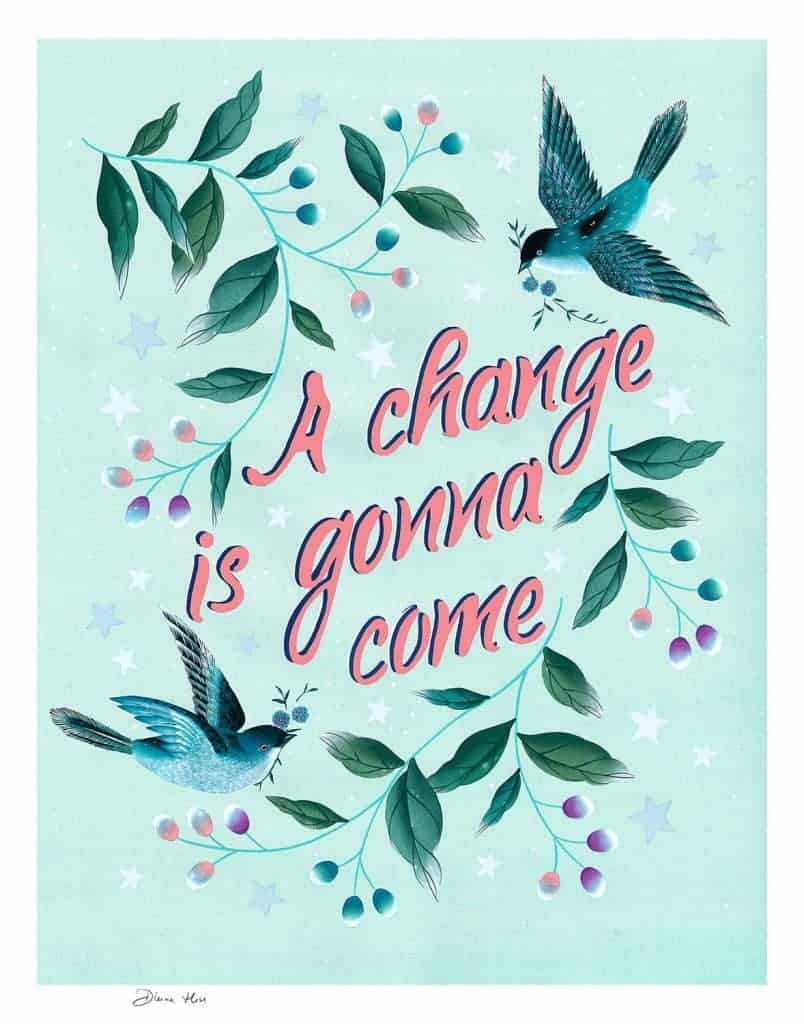 I know you did some charity projects recently, tell us about those and how that led to your interest in print sales?
After seeing the unfolding protests in America, in response to the death of George Floyd and many others, and the BLM movement that was forming, I woke up one morning and thought is there anything that I can do, with my art to help? I created an artwork in aid of Black Lives Matter charities, had it added to my store in a couple of days, launched it, and it went viral!
I posted it, and it got reshared by some accounts with millions of followers, some of my peers like Deliciously Ella, and other celebrity accounts, which was so great and so generous of them, I kept getting orders for the print, it raised almost £13K in profits, which was fantastic, I gave 100% of the profit to charity, split between a US charity and a UK charity. It was a really proud moment to be able to help them in this way, I knew the money would really make a significant contribution towards their work. The UFFC charity is a coalition of families whose family members had been killed in police custody, or psychiatric care. The NAACP are doing amazing work fighting for racial justice, equity and advancement.
When this project got so much visibility and also a significant donation to the work they do, it meant the world to them and to me. I absolutely love that it resonated with people, there are now hundreds of my prints on people's walls, with a message of hope.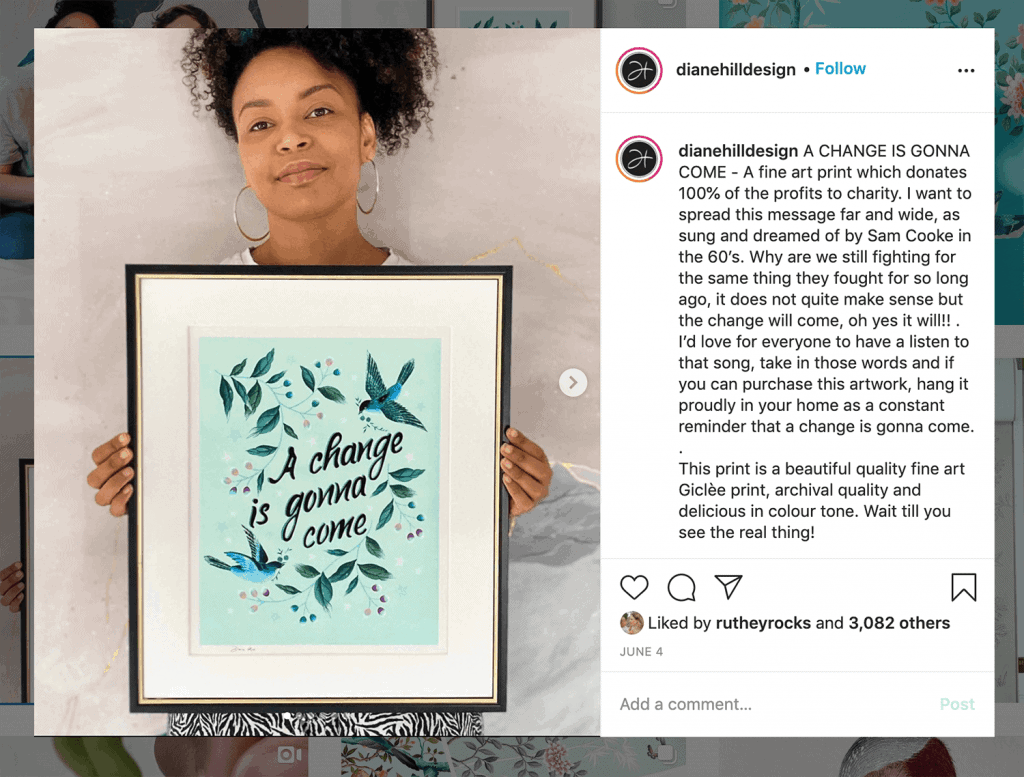 It was a moment of realisation for me personally too. I realised that there was real potential here to transform the way I work, and my career in general. I didn't initially know about your on-demand service, but since I found out about Shopify and your fulfilment system, suddenly the whole process was transformed, I now have more time to focus on creating artwork, and leave it to you guys to do the fulfilment and handle the printing and dispatch, this has been a real game changer.
So what happened for me also, was that people found me through this campaign, started following me and bought other artworks, it became a real discovery tool for my work, so not only was it a hugely gratifying to run such a successful and meaningful campaign for the charity, it also really helped with my own goals of growing the store, I sold so many prints after this and it helped introduce many more new followers to my artworks.
So from then, it really clicked, I started really selling, you need to bring people to you, you can't just expect them to find you, I'm starting to really get into facebook advertising, and understanding marketing and generating traffic much more clearly. It's an exciting new challenge.
I had to turn off the Shopify app notification! It becomes very addictive to hear the 'cha ching!' when you make a sale, I do a happy dance for every one! Which was getting awkward! Haha! Each sale means the world.
It's been such a change in how I work, and who I work with, my customers now are my fans and followers on instagram, who are the nicest and most fantastic people, I love them all. They provide such warm feedback and it's just the nicest thing in the world to hear people's enthusiasm for my work. I get such satisfaction from talking directly with the people who really value my work.
Often I get contacted after people have purchased a print, they'll tell me how they saved up for a piece and are so happy with it, they tell me all about why they love it, they show me it on their walls, it's such a direct and personal relationship I now have with my audience, it just means the world to me.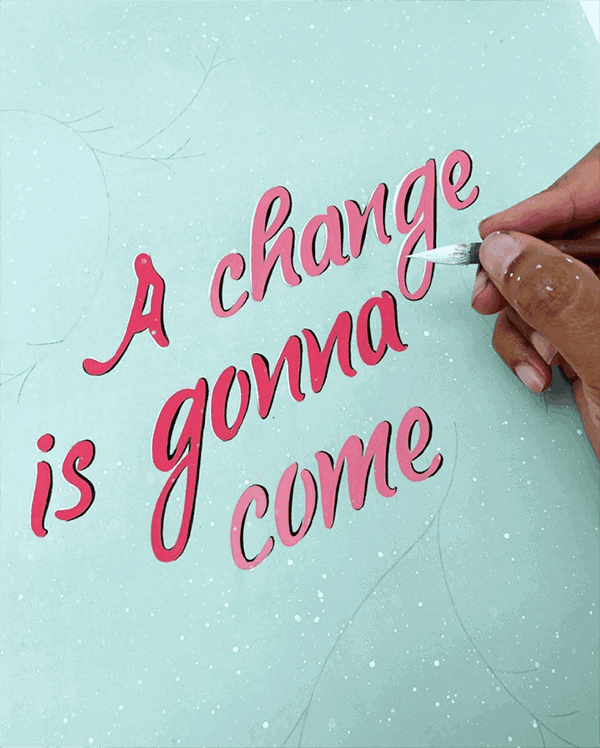 You're absolutely right, traffic is key and with any ecommerce project, you need to work hard on driving traffic to your store, I often speak to clients who are disappointed by their sales, and when I ask them about what they have tried to drive traffic, they tell me they 'added a link to their website' and that's it! It's very interesting to hear the ways you've found success through fantastic initiatives like the charity projects you've done and also peer-sharing and delving into targeted advertising on social media. What are the main areas you focus on with your marketing?
I only use Instagram, and a little bit of facebook, I'm trying ads on FB, which I'm slowly getting the hang of, prior to this, it was only my friends and family liking my posts! Social media is hard work, it's very time consuming, I can't complain as it's where I get all my traffic and ergo it's where my sales come from, but it is challenging, I find that it gets quite all-consuming, like for example replying to comments while you're doing the shopping etc, I'm trying to consciously find balance here and not let it affect my work life balance too much.
But it can be very rewarding and I'm enjoying the challenge, I'm still learning. For example, one thing I've certainly found myself recently, is that it's the videos that I post that are getting me the most new followers and interest. I post 30-60sec videos of me painting, I've honed the style of these videos down through experimentation, I've kinda locked it down to a style that my viewers seem to like, I'll try and film clear strokes of key parts of an artwork I'm creating, everything needs to be fast! People want to see a piece take shape before their eyes, and the nature of social media means they want it quickly! Certain videos can increase my following by 1-2K in just a day. It's all a learning experience that I'm finding really interesting. I'm learning about making really, really good content, consistently, and I love it.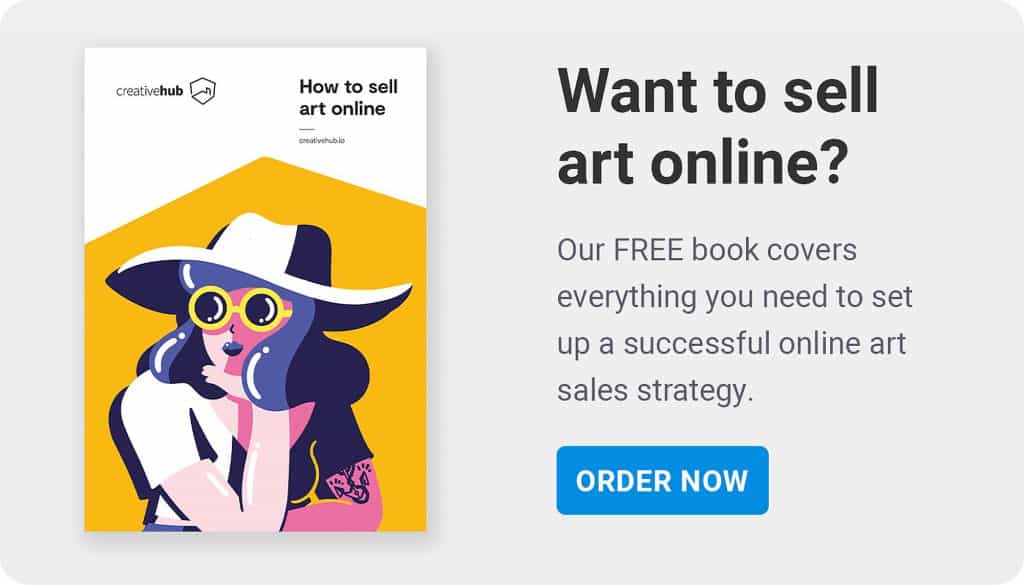 It's great that it really fits for your work now, it also sounds like a very interesting journey that you've taken, from your studies, through years of perfecting and honing your craft, in many cases for such an elite clientele, and then realising you wanted to create artworks that are attainable and can be acquired by a much broader range of people. It almost seems like the opposite of what so many artists aspire to, they aim to steadily increase their prices as their careers progress! So it's refreshing to hear that perspective.
I'm happier than I've ever been, now working in this way. I love that I'm now very free to paint in my own way, with total freedom, it's the purest I've been in terms of expressing myself through my artwork in so many years. It's ultimately the dream of most artists, to express themselves fully through their art, and I feel I'm doing that much more now.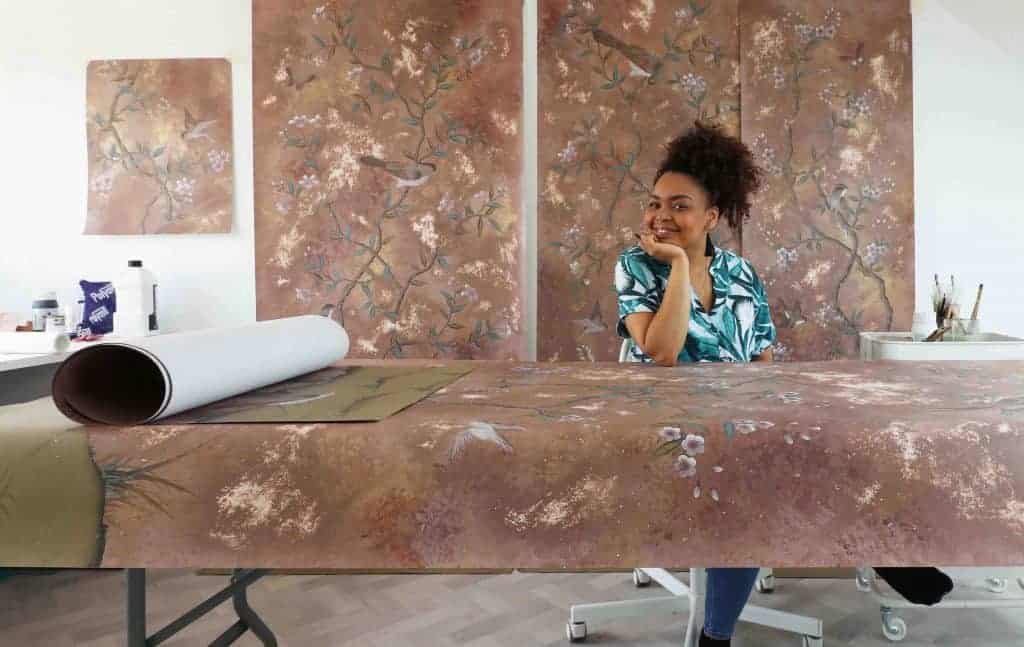 So would you say then in fact that the way your arts business functions now allows you to be more creative?
I'm a real perfectionist, I take such pride in my work, I have to have complete control of what I create and sell, and this led to working in this way, now with selling prints, I'm able to create a perfect print, that I'm totally satisfied with, then I can hand that over to you guys and I know that it will be reproduced perfectly every time. It's incredible to be able to paint one artwork and make a much higher revenue than if I was to sell the original artwork alone.
The quality is totally consistent, my aim is to keep my business as small as possible but grow it as large as possible. I want to be a 'chillpreneur' if you've ever heard that phrase, not hiring too many people, keeping it small and manageable, but growing my business on my own terms, by using the creativehub system I can create work, have it produced by people I trust, and grow in a scalable way. That's really where I want to go with my business.
It's inspiring to hear how you've built this, following years of your craft and passion, found an audience who love your work, and are now building your creative career in a different direction, it's heartwarming to hear of your passion for this and how it's being received.
My followers love it, when I release a new collection they often get snapped up, they love the quality, they share pics of the prints up in their homes, they love how accessible it is.
I adore theprintspace, they've had my back all the time, and I'm always on the phone chasing orders! All of your staff probably know me by now! Haha! I must say that throughout all of it, the staff there and the team at theprintspace have been superb, they always solve any issue or question I have within minutes of me raising it, and it has allowed me to run the business I'm running. I am eternally grateful, I get replies to emails within minutes on most occasions, and any issues such as prints getting lost or arriving bent have been dealt with every time without hassle. Customer service is of the highest importance to me, it's essential that I am working with suppliers such as yourselves with the same values. It's hugely reassuring as a small business owner who is relying so heavily on theprintspace as my 'business partner'!
It's a pleasure to hear that! I'll pass that on to our hard working team in the studio!
It's an incredible world for artists right now, I used to get messages from young artists saying their parents won't let them focus on art because there's no way you can make a living from it and I find that so sad. I now tell them that that's absolutely wrong! Follow your heart and there are so many ways to make a career out of it these days, I see the ecomm trend and the way that artists can make money now as a kind of revolution. It's amazing that artists can now thrive online, doing what they love and on your own terms.
See Diane's work at: dianehill.co.uk/
Instagram: @dianehilldesign
To learn more about how you can sell your art online, get our FREE book