Shipping costs for dropshipping
Print only orders
By default, dropshipping orders to the UK and EU/EEA are sent via postage, with the option to upgrade to DHL Express courier. Orders shipped outside the UK and EU/EEA, i.e USA, Canada, Australia are always shipped via Express Courier. View those rates here
Framed print orders
Framed orders shipping to all destinations are shipped via DHL Express courier. View those rates here
---
Setting up shipping rates in your store
How it works with Shopify & WooCommerce
If you want to import our shipping rates and use them as the rates you charge your customers, import your products with the 'Add to shipping profile' option ticked.
This imports Shipping Profiles to your website shipping settings that are named 'creativehub' in Shopify & 'Dropshipping [region]' in WooCommerce.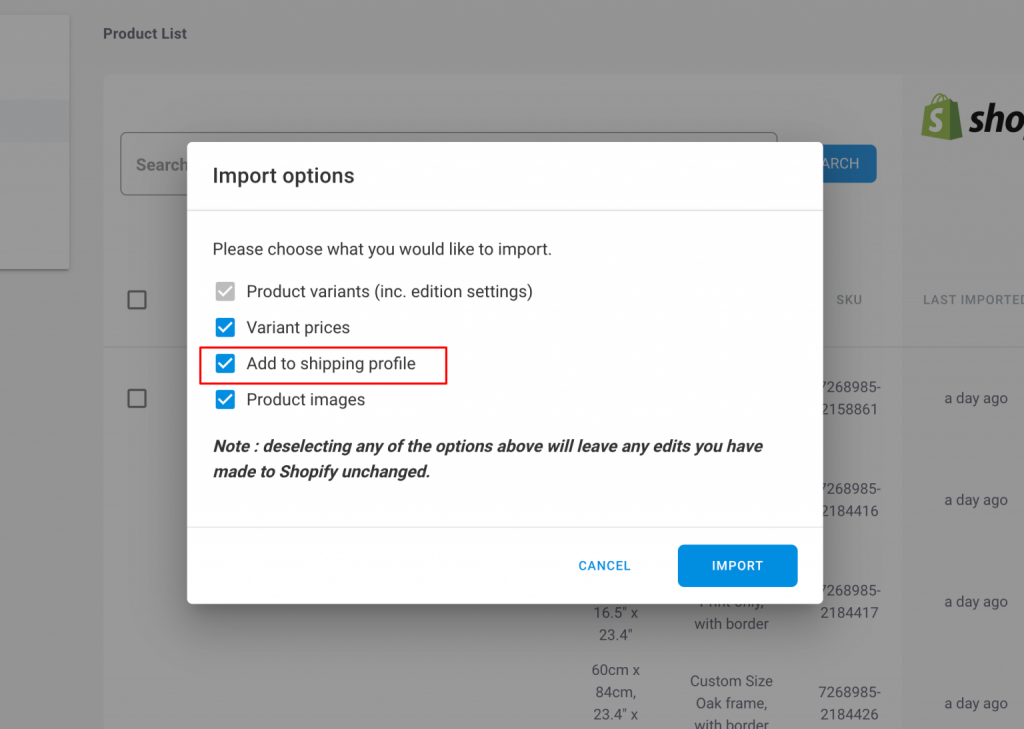 On future product imports, here is how the 'add to shipping profile' option works:
If ticked, the product is assigned to our shipping profile in your shipping settings
If unticked, the product is assigned to your general shipping settings
You are free to change the rates of the profiles. These will not reset on reimport whether ticked or unticked. If you wish to reset your shipping rates back to the Profile default, you must completely delete the profile and reimport.
Access your website shipping settings as follows:
Shopify: settings > shipping & delivery
WooCommerce: woocommerce > settings > shipping
How it works with Squarespace, Etsy & WIX
Squarespace, Etsy & WIX to not offer the ability for us to push our shipping profiles on import. So, if you use either of these websites you need to set up your own shipping rates.
Ultimately, what you wish to charge for shipping is up to you. However, if you are unsure we would recommend reflecting the shipping zones we use with comparable pricing. Check the rates we charge you here.
Access your website shipping settings as follows:
Squarespace: commerce > shipping
Etsy: settings > delivery settings
WIX: settings > 'shipping & fulfilment
---